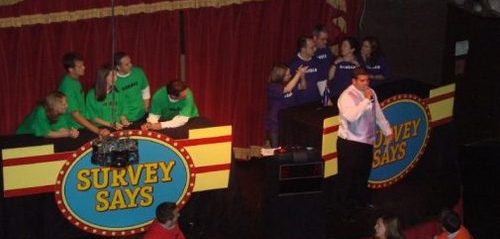 Tonight, teachers and staff from Southborough schools will be pitted against each other. But it's for fun and a worthy cause.
The Southborough Education Foundation turned its big March fundraiser into a "Family Feud". Teams will compete to see who has "the fastest hands and quickets wits."
I reached out to SEF to find out who is going head to head. I was puzzled by the list of eight teams that came back.
I asked, "How can that many teams compete in a two-team game?"
The answer was – March Madness style. Teams are being bracketed off for three rounds of play.
Students, former students, and families from Woodward and Finn, plus Trottier's Special Ed program, should have fun cheering on familiar faces. (Scroll down for the names.)
Four pairs of teams will challenge each other in the first round. That's followed by two competitions in the semi finals. The last two teams standing will vie for the championship.
Of course, the real winner is Southborough K-12 students. The money that SEF raises is used to fund innovative educational programs at Southborough public schools and Algonquin Regional.
The doors will open at Trottier tonight at 5:30 pm for families to buy pizza and snacks.
And don't forget the silent auction and raffle. (This event replaced the annual Spelling Bee – so you can expect the same kinds of great baskets and prizes you usually see there.)
The competition kicks off at 6:30 pm in the auditorium.
Admission is $8 per person. (You can purchase tickets in advance here.)
Now, here's the list of teams and teachers/staff members. (Note, I broke these out by school, not brackets.)
Finn School:
Finn-annigans: Elisabeth Hall, Nicole McMahon, Cathy Wilson, Nancy Bauman, and Maureen Sullivan-Falzone
The Finncredibles: Josh Boule, Lauren Dayotas, Monique DeBeaucourt, Jocelyn Bossart, and Kristen Bisnette
The Band-Aideys: Angie Georger, Meghan Adams, Michelle Beebe, Melanie Figueroa, and Jen Glynn
Woodward Memorial School
Let's Get Quizzical: Diane Georger, Donna Bradley, Cassie Pearsall, Katie Nordman, and Lindsay Burgess
Trivia Newton John: Agnes Cammarata, Donna Sergi, Pam Lorenzi, Pam Bishop, and Nicole Kelleher
Totally Trolls: Monica Coyle, Tiffany Goode, Gwen Robison, Melissa Eiben, and Kim Bianchi
The Foodies: Allison Garand, Lisa Goulet, Mary Ellen Duggan, Amy Benford, and Jennie Bogaert
The New England Center for Children, Inc. (working at Trottier Middle School)
NECC 2018: Aimee Horgan, Heather Hall, Jill Ricardo, Jodie Rollins, and Juneo DeLouis