Early Bird registration is open for Jr. T-Hawks Northborough/Southborough Youth Football and Cheer.
The new season will kick off will kick off in August. But to qualify for the early bird rate, you need to sign kids up by April 30th.* To help parents make the call on signing up, NSYFCA is holding an Info Night next week.
If you want to learn more, parents can attend the Information Night at Algonquin on April 4th, from 7pm-8pm. Representatives from both football and cheer will be there answer questions. New and returning families can learn more, bring friends, and ask questions.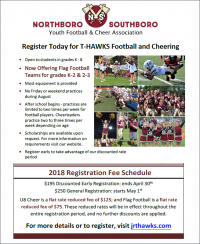 This year, the Jr. T-Hawks tackle football is open to grades 2-8. They also offer flag football for grades K-3.
The football programs are open to girls, and some do participate. More sign up to be Jr. T-Hawk's Cheerleaders, open to K-8.
For more details, click on the flyer right.
To learn even more about the program or to register, click here.
*The early bird deadline is for tackle football grades 2-8 and cheerleading grades 3-8. U8 Cheer and Flag Football (K-3) both have flat reduced fees, not effected by reg dates.