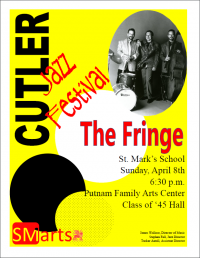 This Sunday, St. Mark's School's annual jazz festival will feature a trio of guest artists – The Fringe.
As I've previously posted, the festival, which includes St. Mark's students, will take place April 5th at 6:30 pm in the Class of '45 Hall in the Putnam Family Arts Center.
(That follows the Celebrating Service, Celebrating Southborough reception by the Rotary Club in the same building. For more on that, click here.)
If you google the band, pay careful attention. There is another trio going by that name these days. But I'm not sure those rock musicians were even born in 1971, the year this Boston area jazz trio was formed.
The local band is known for its free jazz improvisational style. Players are tenor-saxophonist George Garzone, drummer Bob Gullotti, and bassist John Lockwood. (Lockwood is their "new" player, only with the band since '85.)
The group performs weekly in Cambridge. The Boston.com calendar listing for that shares:
Along with their impressive tenure with The Fringe, Gullotti, Garzone, and Lockwood are in great demand as session players and have played with many of the greats of contemporary jazz. Along with keeping up with a busy performance schedule, each of them are well-respected educators helping to inspire the jazz musicians of tomorrow.
The free jazz group has been covered passionately by NPR and the New York Times. (I'd share an excerpt, but no single passage was appropriately quotable. It seems the group's complex performance style doesn't lend itself to a quick "sound bite". )
Of course, I always believe hearing is better than reading when it comes to music. So, here is a sample of their sound, via You Tube – a 2006 performance at Berklee.
Parking for Sunday's concert is available in the SM Athletics Parking lot off Rt 85 (north of Taft Hall).