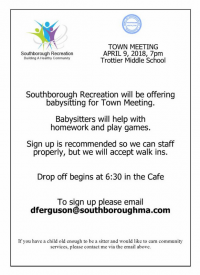 The Recreation Department announced that it will offer free babysitting during Monday night's Annual Town Meeting. Registration is requested (to help them plan) but not required.
To sign up to use the service – or to volunteer as a babysitter (for community service hours) – email dferguson@southboroughma.com.
As long as I'm updating you on Town Meeting – it's a good time to share a related video.
Southborough Access Media captured the forum held by the Recreation Commission last week on their Town Meeting Warrant Articles:
If watching the video raises any new questions for you – you can follow up on those tonight. Recreation is holding a second forum at the Southborough Library tonight, April 4th at 7:00 pm.
As I posted yesterday, the Library is hosting another ATM forum the next night. Golf Course articles will be the focus of Thursday, April 5th's forum put on by the Save Our Heritage group at 7:00 pm.