Now that it's finally starting to feel like spring, some green thumbs may be itching to get to work. The Southborough Senior Center is making an offer that might help scratch the itch.
A week from tomorrow the Senior Center is hosting two demonstration classes on planting edible garden beds. Unlike another program this month (already full) don't expect to walk away with a pot. These classes are demonstrations.
But, you can use the techniques at home. And if you're looking for somewhere else to dig in, the center is also seeking volunteers to maintain new beds this spring.
Next week, the Town may be quiet as a lot of young families flee for spring break. But its also the month when snowbirds are migrating back. So, the Senior Center may will see an increase in visitors. Which means interested seniors better sign up soon to secure class spot(s).
[And, if you are a returning snowbird, you may have missed/misplaced the Senior Center's March/April newsletter. Click here to check out what else is going on at Cordaville Hall this month.]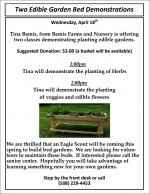 Both classes, demonstrated by Tina Bemis, will be held the afternoon of Wednesday, April 18th:
At 1:00 pm, learn about planting herb gardens
At 2:00 pm, learn about planting vegetables and edible flowers
The suggested donation for each class is $3. You can pre-register at 508-229-4453.
The Center also shares that Eagle Scouts will be building garden beds for the facility this spring. They are seeking volunteers interested in helping maintain them. Let them know if you would like to sign up.