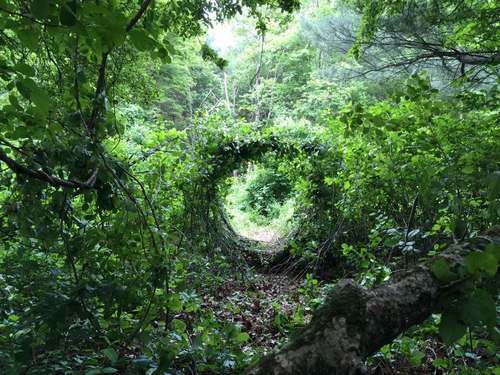 With the deadline for art submissions coming up this weekend, I'm re-posting information on this year's Art on the Trails.
The opportunity to exhibit art on Southborough Open Land Foundation trails will be offered again this summer. The exhibition will be installed in Beals Preserve for public display from June 14 – September 23. Organizers will accept proposal for submissions to the juried exhibition through this Sunday, April 22.
The exhibition will be juried by Jean Mineo, former Director of Boston Sculpture Gallery. This year's theme is "Unexpected Gestures":
How does it feel to encounter art in an unexpected place? How does that gesture change the visitors' experience of nature? Artists are encouraged to consider materials and methods that integrate with and contrast to the setting of woods, meadows, trails and ponds that make up this special property. We are seeking work that interprets this theme for a natural environment in ways that will surprise and delight the hundreds of visitors at Beals Preserve for four months in 2018.
Once again, art must leave no permanent trace to the environment and be installed without harm to surrounding trees or vegetation.
If you are creative, or know someone who is, you can check out the full details here.