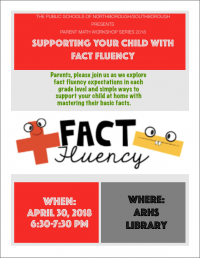 Sorry for the short notice on this one. But somehow it slipped under my radar until this morning.
Tonight, Northborough and Southborough schools are holding a math workshop for parents. The title is "Supporting Your Child with Fact Fluency":
Please join us as we explore fact fluency expectations in each grade level and simple ways to support your child at home with mastering their basic fact.
The workshop will be held from 6:30 – 7:30 pm at Algonquin Regional High School in the library (79 Bartlett St, Northborough).
The series is being run by district math coordinators, Maggie McGinty and Kathy Lizotte.
It's part of a 2018 series, with another workshop scheduled for Thursday, May 30 (same time and place). That one will focus on "Preventing the Summer Slide".