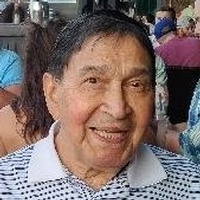 Dennis Evaristo Pedraza, age 89, died Wednesday, June 13, 2018 at UMASS Memorial Center, Worcester.
He was the husband of Noemi (Portela) Pedraza. Mr. Pedraza came to the United States from Argentina after being by Honeywell Corp. for which he worked for many years. He also worked for Data Terminal Systems and Digital Electronic Corp. He became a naturalized citizen of the United States.
Besides his wife Noemi, Dennis is survived by his daughter Isabel and Alison Pedraza: grandchildren, Keegan and Layla, all of Los Angeles, CA.
Relatives and friends are kindly invited to attend visiting hours on Saturday, June 16, 2018 from 10:30-11:30 AM at the Norton Funeral Home, 53 Beech St., Framingham followed by a graveside service at 12PM at Rural Cemetery, 11 Cordaville Rd, Southborough, MA 01772.
To leave a message of condolence, sign the online guestbook or directions, please visit www.nortonfuneralhome.com.