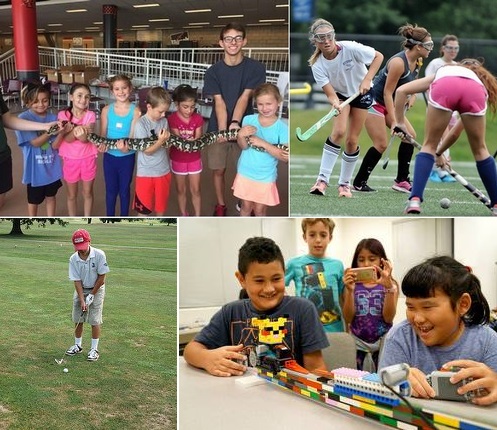 Tomorrow is the last full day of Southborough Public Schools. Are you freaking out yet about what to do with your kids this summer?
Don't worry. Southborough Recreation has a lot of options to offer.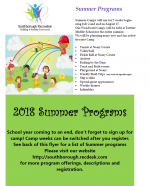 The Rec Department asked me to share their updated flyer (right). It explains the offerings at the relocated half day camp for Grades 2-6 relocated to Trottier from Woodward this summer. At the new venue, campers will enjoy:
Tennis and Pickle Ball at Neary Courts
Volleyball
Archery
Fishing by the Dam
Track and Field events
Playground at Neary
Slip n'slide and Inflatables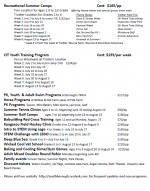 Each week has a one field trip. The exception is the final week – featuring at least three field trips.
Kids ages 2.9 to 1st grade will have camp at Finn School again this summer. Both camps have weekly themes and special visiting guests. (Those are listed on the 2nd page of the flyer – right.)
Also on offer this summer are specialized one week camps and ongoing sports clinics and camps.
For tots to teens looking to burn some energy, choices include:
Kangaroo Field Hockey Clinic – Grades 6 to 12, August 6 to August 9 (click thumbnail below)
Golf Camps – Options for ages 5 and up through August 23rd (click thumbnail below)
Tennis Clinics – Ages 7-13, June 25 to August 9 (click thumbnail below)
Horse Programs and "farming" – Ages 4 – 16, June 25 to August 24th
Swim Lessons – Ages 3-adult, June 25 to August 19 (click here for pdf)
The South Union Building will host the specialized one-week offerings again this summer. Prices ranging from $165-$220 for the half day camps. (For details, click thumbnails below):
Intro to STEM Using Legos – K to Grade 1, July 23 to July 27
STEM Challenge with LEGO – Grades 2 to 6, July 23 to July 27
Deep Blue Sea – Grade K to 5, July 9 to July 13
Wicked Cool Vet School – Grades K to 5, August 13 to August 17
Baking and Cooling Slime/Gym Games – Ages 4 to 9, August 20 to August 24
You can find all of the camp offerings – and sign up for most – here. You can also find Registration forms here. If you have questions, you can check out the the Recreation Department's website or call 508-229-4452.
For other camp options and things to do with kids this summer, click here.