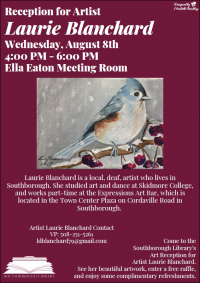 This summer, artwork by Southborough's Laurie Blanchard has been on display in the Eaton Meeting Room. Tomorrow afternoon, the Library is hosting a reception for the public.
The gathering is 4:00 -6:00 pm, Wednesday, August 8th. Patrons are invited to:
See her beautiful artwork, enter a free raffle, and enjoy some complimentary refreshments.
The Library promotes:
Artist Laurie Blanchard is from Southborough, MA and studied art at Skidmore College. Laurie's passions are her family, friends, painting, drawing, zentangle, hiking, and more. . .

Laurie works part-time at the Expressions Art Bar, which is located in the Town Center on Cordaville Road. This is the first featured exhibition of her work. The reception is open to the public. All are welcome.