The Southborough Library is launching another new group this fall. The latest Book Club won't ask members to read the selection from cover to cover. But they will need to read a selection closely to participate.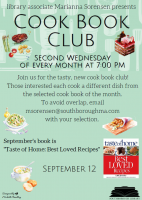 The Cook Book Club will bring together patrons with an appetite for trying new recipes. And they will need to bring their appetites, along with their (hopefully successful) results to the monthly meetings.
On the second Wednesday of each month at 7:00 pm, members will bring in a dish cooked from recipes in the agreed upon cookbook.
For the inaugural meeting on September 12th, cooks should look to "Taste of Home: Best Loved Recipes". (You can reserve a copy here. If you have trouble doing that, follow up with the Library staff for help.)
The Library's Marianna Sorensen will be overseeing the group. To avoid too much overlap, please notify her what you'll be bringing in. You can email her at msorensen224@gmail.com.