If you missed being able to pop in to the Southborough Library on the weekends, good news. The summer Saturday closings ended when August did. With the return to Saturday hours, the Library is holding special weekend programs.
As I posted earlier this month, a bi-weekly Chess program for beginners starts tomorrow. This fall, they'll also be offering monthly "Saturday Morning Art" for children. And for adults, Saturdays are the days the monthly "Audio Book Club" will now meet.
Below are more details on each program.
(Reminder, Saturday hours means it's also easier to pick up a museum/park pass for weekend use. This summer, they added Zoo New England and five Springfield Museums including the Amazing World of Dr. Seuss. That's in addition to 16 other passes to museums and venues.)
Saturday Chess
The gatherings are for those interested in learning beginner chess skills. It's geared for ages 12 and up. At the afternoon sessions, participants will learn and practice basic skills. They'll then be invited to test out their new skills at tournaments.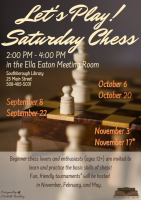 The first gathering takes place on September 8th from 2:00 – 4:00 pm in the downstairs Eaton Meeting room. Follow up sessions this fall are on September 22, October 6 & 20, and November 3rd. The first tournament will take place on November 17th.
(Anyone interested in supporting these events is welcome to donate an "allergy-free snack".)
If you have any questions, contact Assistant Director & YA Librarian Aileen Sanchez-Himes at asanchez@southboroughma.com or 508-485-5031.
Saturday Morning Art
The Library is resuming its drop-in workshops for 5-9 year olds. They take place from 10:30 – noon, no registration required.
The (almost) monthly events are sponsored by The Friends of the Southborough Library.

The program is run by art instructor Lanting Huang-Truong. Here is her fall schedule:
September 15: Cactus drawings
October 13: Printmaking
December 8: Winter Art
Audio Book Club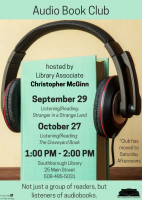 This summer, the Library launched a book club for adult fans of sci-fi/fantasy. As the name suggests, each month's selection can be listened to as an audio book. But, as I previously posted, members are also welcome to read the selection if they prefer.
The monthly meetings will be led by library associate Christopher McGinn. Upcoming meetings are scheduled for 1:00 – 2:00 pm on September 29th, October 27th.
The next book up for discussion is Stranger in a Strange Land by by Robert A. Heinlein. In October, they'll discuss The Graveyard Book by Neil Gaiman.
You can use the prior links to reserve a book, audio book, and/or e-book. If you need assistance, contact the Library at 508-485-5031.