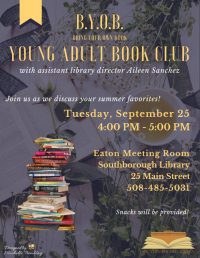 The Southborough Library is relaunching its YA Book Club this month. The group is geared towards teens 13-8.
The first meeting is on Tuesday, September 25th.
Don't fret. There isn't a rush to reserve and read a new book. This month, teens are asked to BYOB. (They aren't corrupting youth. The second B stands for Book.)
To kick off the group and get to know each other, members will discuss their favorite summer reads.
Her group will refill a recent gap in the library's "book group" age span.
The Library already organizes monthly fall-to-spring book groups for: grades 2-3, 4-5, and 6-8; adults (the "First Wednesday" club); and Seniors (2nd Wednesdays at the Senior Center). They also recently launched two new specialty book clubs – the Audio Book Club and Cook Book Club.
For kids too young for book groups they also hold preschool story times and a baby and toddler time. Plus, the Tales and Tails program helps serve kids with some reader skills – encouraging them to read to dogs. (Unfortunately, K-1 reading levels vary too much for a book club. Instead, craft programs, Lego times, and other special events encourage them to visit the Library and check out books.)
Note: If you're interested in signing up yourself, or a family member, for any of those clubs – check out the details via above links, the Library's calendar or by calling them at 508-485-5031.
The YA meetings will be held the last Tuesday of every month from 4:00 to 5:00 pm in the Eaton Meeting Room downstairs. (Reserved book club titles will be held at the Holds Pickup area upstairs and available to check out at the beginning of each month.) Snacks will be provided.
The new program will be led by the library's new Assistant Director & Young Adult Librarian Aileen Sanchez-Himes. If you have questions, you can reach her at asanchez@southboroughma.com or 508-485-5031.