The Town has released it's official schedule for Heritage Day – the weekend after this one. So, it's a good time to remind you of other events linked to the weekend.
Sunday, October 7, 2018:
As usual, Chestnut Hill Farm will hold a special festival. Stay tuned for a separate post on the 10:00 am – 3:00 pm event.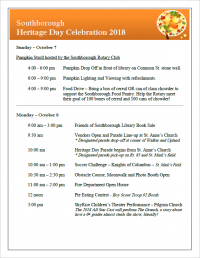 As I previously posted, that night is a 20 year old tradition, newly dubbed the Pumpkin Stroll. Drop-off decorated pumpkins 4:00 – 6:00 pm. Viewing hours are 6:00 – 8:00 pm.
The big event is the day itself, with the parade and festivities.
Monday, October 8, 2018:
9:00 am – 3:00 pm Friends of Southborough Library Book Sale
9:30 am Vendors Open and Parade Line-up at St. Anne's Church
* Designated parade drop-off at corner of Walker and Upland.
10:00 am Heritage Day Parade begins from St. Anne's Church
* Designated parade pick-up on Rt. 85 and St. Mark's field.
10:00 am – 1:00 pm Soccer Challenge – Knights of Columbus – St. Mark's Field
10:30 am – 2:30 pm Obstacle Course, Moonwalk and Photo Booth Open
11:00 am – 2:00 pm Fire Department Open House
12 noon Pie Eating Contest – Boy Scout Troop 92 Booth
3:00 pm SkyRise Children's Theater Performance – Pilgrim Church
The 2018 All Star Cast will perform The Grunch, a story about how a 6th grader almost steals the show, literally!
The schedule doesn't necessarily capture everything. For instance, the Southborough Historical Society was asking for volunteers to help them put Heritage back into the day. (If you're interested in helping them, click here for more on that.)
If your organization/booth has something special planned that day, let me know. You can post a comment below or email mysouthborough@gmail.com with subject line "Heritage Day Activity".