Next week, the Southborough Library is hosting another special gardening program. Experts from Blackstone Valley Veggie Gardens will be teaching Composting 101.
BVVG's lecture series on gardening topics have proven popular at other libraries. Over the summer, the Library brought them in to teach about "The Organic Approach". The talk was successful enough to bring them back.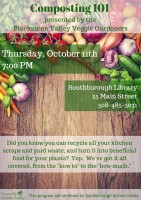 The Library pitches:
Did you know you can recycle all your kitchen scraps and yard waste, and turn it into beneficial food for your plants? Yep. We've got it all covered, from the "how to" to the "how much" – join us at the library for this exciting informational program from the Blackstone Valley Veggie Gardens.
A past class description on Facebook by BVVG describes:
Learn how to turn your leaves, grass clipping and veggie scraps into nourishing black gold to feed your garden.
The program takes place on Thursday, October 11th at 7:00 pm. No registration required.
Updated (10/18/18 2:21 pm): I deleted an excerpt on spraying that was a holdover from the Organic Approach event, that somehow worked its way back into this post!
*Updated (5/24/21 9:08 am): I was alerted about a purported copyright issue on another post where I used images from the BVVG Facebook posts. To ensure there aren't any issues here, I removed the photo initially posted to illustrate the workshop.