The Southborough Cable Committee needs to negotiate the renewal of the Cable TV licenses for Spring 2019. In preparation, they are gathering information that they think is necessary/useful.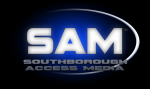 One question jumped out as worth noting. The survey seeks feedback on residents' support for funding Southborough Access Media. I'd be lost without SAM's videos. So, before I share a survey link – I need to give SAM a big shout out.
[Editor's Note: I followed up on a reader's question. Is the committee just verifying that the current surcharge supporting SAM makes sense? Or are they looking to increase the funding? Here is the response of member Barry Rubenstein:
We are still early in the process of determining the funding needs of SAM and Town departments that utilize cable TV services. Since this funding is largely provided through fees charged to cable TV customers, it is possible that our funding requests may require an increase in these fees of some as yet undetermined amount. We are simply trying to assess the tolerance of the community for such a potential increase.]
SAM's documenting of government meetings is invaluable to anyone who thinks media coverage of our Town Government is important.*
Of course, they also share other happenings around Town – Library talks, special events, concerts, etc. So, even if you don't follow politics, there's something for you. You can check out their YouTube channel here. Or click here to view their channel lineup, schedules and more.
Now for the survey –
The committee posted the questionnaire to the Town's website. You can click here to fill in your answers. Or, stop by the Town House, Library or the Senior Center to pick up a hard copy.
Committee members Barry Rubenstein, Will Warren, and Kathy Wilfert, thank you in advance for your participation. We can show them our appreciation for stepping up to help the community by taking a couple of minutes to respond.
*If I had to throw the hat in on covering Town news – since other local media has scaled back so much on their coverage of our Town (something not likely to get better) – without SAM you'd all have to attend the meetings yourselves to know what's going on. (There are a few residents who seem to make that a full time hobby. But I don't think the rest of you want to!)
As for why it's important to me – Their videos keep an accurate record that I could never replace and minutes never fully capture. You have no idea how many hours I spend watching SAM videos before writing one story on a Town meeting. I'm able to pause and go back to verify I got facts right. I revisit items from earlier in a meeting when later comments shed new light on them. I revisit past meetings when something that happens puts new importance on past presentations.
When asking officials questions, I point to moments captured on video when asking questions. (So, I don't have to worry about anyone thinking/saying I misunderstood or misremembered.)
Plus, my stories often prompt readers to watch a meeting they missed, so they can have their own take on what was said. That's an option that would be missing if you relied simply on print coverage.
Updated (10/15/18 7:35 pm): I inserted the Editor's Note after the second paragraph.