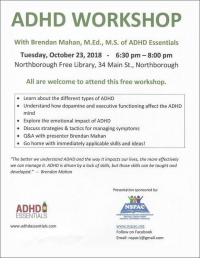 The Northborough/Southborough Special Education Parent Advisory Council is hosting a special presentation on ADHD.
The free workshop will be held at the Northborough Free Library on Tuesday, October 23rd from 6:30 – 8:00 pm.
Learn about the different types of ADHD
Understand how dopamine and executive functioning affect the ADHD mind
Explore the emotional impact of ADHD
Discuss strategies & tactics for managing symptoms
Q&A with presenter Brendan Mahan
Go home with immediately applicable skills and ideas
The talk will be by Brendan Mahan of ADHD Essentials. You can read more about him here.