The Southborough Library is bringing back a popular "Crafternoon" for tweens and teens (ages 8+). Mandy Roberge from Wicked Good Henna is returning with her most-in-demand specialty – Henna Tattoos.
No registration is required – but kids will need to be among the first 50 to show up.

Embracing the season, Roberge will offer "spooky-themed" designs. For past examples of her Halloween themed offerings click on the thumbnail left.
But, the program isn't limited to Halloween tattoos. Participants can also pick any of her more traditional-themed designs.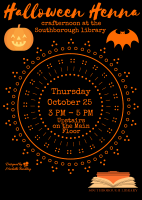 The Crafternoon is Thursday, October 25 starting at 3:00 pm.
As you probably know – programming space is limited these days. If the weather cooperates, the fun will take place at Roberge's tent. But it's rain or shine with the inside Main Floor as backup location.
For those of you unfamiliar with henna tattoos, Roberge's website describes it as henna paste patterns are "glued" to the skin with a lemon-sugar mixture and kept on for hours to stain the skin. When applied properly, the stain darkens over several days before it begins to fade away.
I found some pretty cool fast motion videos of the painting process posted to Roberge by Facebook. Check out an example below: