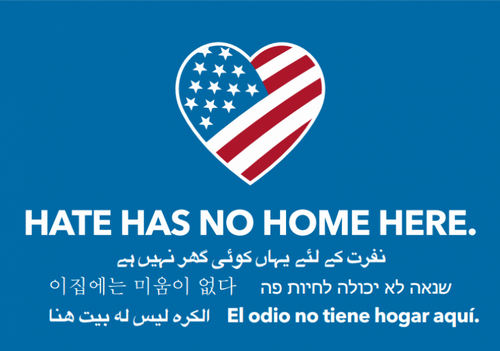 A group of residents is inviting you to help combat hate crimes and prejudice with a positive message.
"Hate Has No Home Here" is a message being spread across the country. Some Southborough residents have launched a local group to spread the word in town. Using Facebook to communicate, they are encouraging residents of all political affiliations to embrace the cause and order a lawn sign.
Here is the announcement:
In Response to the shooting that occurred at Tree of Life synagogue in Pittsburgh on October 27, 2018 and other hate crimes in the news, residents of Southborough wish join with others throughout the country in the national HATE HAS NO HOME HERE lawn sign campaign.

The campaign is not affiliated with any political party and the leaders ask that it not be used in political ways. Everyone is welcome as we address the issue of hate crimes and prejudice, and we keep our language bipartisan.

You will start seeing the first 50 lawn sighs signs we ordered in the next few days, and we will be placing another order soon, cost is $5.00 per sign.

Go to our Facebook Group to Place your requests "Southborough Area HATE HAS NO HOME HERE."

Everyone who is anti-hate is welcome in this group, you don't have to be from Southborough but will need to pick up your lawn sign at a Southborough location.

PEACE
Freddie Gillespie
Updated (11/9/18 10:04 am): On a related note, some members of the group will be participating in tonight's anti-hate Friendship Circle at Congregation B'nai Shalom in Westborough. Click here for a reminder of those details.