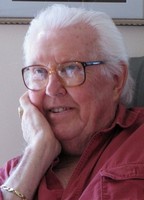 Richard F. "Dick" Tibert has gone to be with his Holy Savior and rejoin his wife Irene on November 9, 2018 after a brief, brave battle with cancer.
Mr. Tibert was born in Cambridge, MA in 1930 and lived in Arlington Heights, Northborough and Westborough before moving to Southborough in 1980.
He was a graduate of Northborough High School, University of MA and N.E. School of Accounting and took additional courses of study at Worcester Jr. College, Worcester State College and Clark University. His vocations included wildlife biologist, industrial lab technician, quality control manager, motor inn manager, real estate agent and chauffeur. He was the first Business Manager of the Northborough-Southborough Regional School District and later was employed by the U.S. Postal Service, retiring from both.
He was a former member of the Northborough Board of Appeals, Northborough PTA, Southborough Rod & Gun Club and First United Methodist Church of Westborough. Dick played industrial league softball for Vendmaster and in Westborough was a Little League coach and a committeeman for Boy Scout Troop 22. He was also a proud life member of the Tennessee Squire Association.
Dick is predeceased by his parents Lawrence R. and Mary A. (Forbes) Tibert, former wife Ethelanna (Sirois) Tibert Hogge and his wife Irene (Dominianni) Burkis Tibert.
He always said how lucky he was to have had marriages to two "good-lookin' chicks" during his lifetime. From his first marriage were born Lauren M. and Gary A., and upon his second marriage he welcomed Irene's daughters Lauralee, Lisa A. and Patricia M.
Dick's fondest memories were of growing up on his family's "gentleman's farm" in Northborough with their many cats, cows, pigs and little dog Terry. He learned the value of hard work and the good feeling of a job well done. He also enjoyed his groundskeeping work at the state hospital where his biggest thrill was driving the tractor. During his childhood, Dick "Moe" met his nearby neighbor Arthur "Uggy", and they remained in each other's lives throughout high school and college, never living far from each other to this day. During this friendship, the "saga of the purple tie" began.
Dick is survived by his daughter Lauren (Dan) Wells, son Gary Tibert, "bonus" daughters Laura (Lew) Mayo, Lisa Hazell and Patti Burkis; grandchildren William Mayo, John (Amanda) Mayo, Andrew (Amanda Coelho) Mayo, Monika (Jay) Sarsfield, Nick Darby, Sarah Hazell and Christopher Hazell; great-grandchildren John Lewis Mayo and Brody Sarsfield.
He is also survived by his brother Kenneth (Judy) Tibert, nephews Paul (Cathy) Tibert and John Tibert, niece Jenifer (David) Ratcliffe, former brother-in-law Bill Gould, niece Kimberly (Jim) Harkins and lifelong best friend Arthur "Uggy" Cole.
His funeral service will be held on Saturday, November 17, at 10:00 A.M. in The First United Methodist Church, 120 West Main St., Westborough. Burial will follow in Pine Grove Cemetery.
In lieu of flowers, the family suggests donations to Massachusetts Division of Fisheries & Wildlife, 1 Rabbit Hill Rd., Westborough, MA 01581.