Reminder – tomorrow, Thursday, November 15th – is the last day to pick up advance tickets for the Library benefit concert. Don't worry if you can't make it over. You can also buy tickets at the door on Saturday.
As you should know by now, the Southborough Library's downstairs (including the Children's Room) was flooded in September. If you are one of the many who asked how you could help, here's your chance. Tickets sold to the Saturday concert will benefit the Children's Room.
On Saturday, November 17th from 2:00 – 4:00 pm, Dave Garden and Hit The Bus will hold a family-friendly concert at Fay School.
If you aren't familiar with the band, here's a fun taste. Last year, band member Dave Garden got pulled on stage for a chance to sing with the Bare Naked Ladies. He blew the band and crowd away with his rendition of Brian Wilson Says. (You can read the story here.)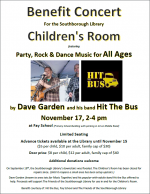 Now you can hear him and his band live while supporting the Library Children's Room. Through Thursday night the Library is selling tickets to the fundraiser for $5 per child and $10 per adult with a maximum of $30 per family.
Tickets will be sold at the door for $8 per child, $12 per adult with a max of $40 per family.
*Full disclosure – as many of you already know, I'm the President of The Friends of the Southborough Library.