Across the nation, people will support small businesses this Saturday, November 24th. Will you?
Whether you're shopping for gifts or buying your holiday decorations or preparing to entertain – consider shopping in town.
Even if you aren't celebrating a holiday, you finished your preparations early, or you can't deal with Christmas shopping yet – you can still take part.
Celebrate date night, splurge on a gourmet coffee, get your nails done, pick up a nice bottle of wine, or buy a new accessory just for you. There's plenty of ways to show your support for small business.
Looking for where to shop (or dine)?
Some small Southborough-based businesses advertise on the blog.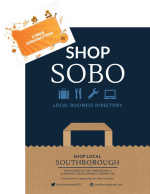 This week, the Economic Development Committee was working to update its "Shop SOBO" pfd, a directory of Southborough business. That should be up to date now.
The directory makes it easy to look up Southborough based retailers, services, and much more. Click here to open it.
Feel free to share in the comments news about any special sales in town tomorrow, or your favorite Southborough located/owned small business.