The Southborough Library is putting on "its first ever Annual Gingerbread House Competition & Showcase" next week.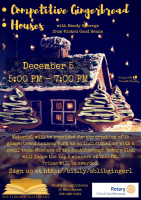 The contest for ages 12 – adult is on Wednesday, December 5th from 5:00 – 7:00 pm.
15 houses designed and built by teams (of up to 3) or individuals will compete for top honors. The competition will be led by popular crafter Mandy Roberge.
The winners will be judged and prizes awarded by the Southborough Rotary Club.
Registration is limited but spaces are still available. To sign up, click here.
Updated (11/28/18 9:06 am): I added that the teams are capped at 3 people each.