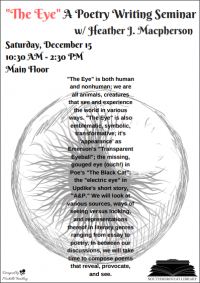 The Southborough Library is holding another special poetry event this month. On Saturday, December 15th, the Library is hosting a free writing seminar.
[Editor's Note: The event is being postponed to Saturday, January 19.]
The event is run by Heather McPherson, who also leads semi-monthly workshops.
The regular workshops are collaborative meetings, where participants are expected to bring pre-written poems for feedback. In contrast, the seminar will focus on a theme and encourage in-session writing:
Poetry Writing Seminar Flyer Description: "The Eye" is both human and nonhuman; we are all animals, creatures that see and experience the world in various ways. "The Eye" is also emblematic, symbolic, transformative; it's 'appearance' as Emerson's "Transparent Eyeball"; the missing, gouged eye (ouch!) in Poe's "The Black Cat"; the "electric eye" in Updike's short story, "A&P." We will look at various sources, ways of seeing versus looking, and representations thereof in literary genres ranging from essay to poetry.

In between our discussions, we will take time to compose poems that reveal, provocate, and see. Led by poetry scholar Heather J. Macpherson.

This one time seminar will start at 10:30 AM from 2:30 PM on Saturday December 15, 2018 to be held on the Main Floor upstairs. The event is free and open to the public.
Updated (12/10/18 1:23 pm): The Library will be closed temporarily due to paint fumes from repairs being made to the downstairs. Stay tuned for the new date and time.
Updated (12/11/18 8:05 am): The event has been rescheduled to Saturday, January 19.