On Black Friday, I posted a link to the Shop SOBO directory. It turns out, that updating the business directory is a big project still in process. Now the Economic Development Committee is asking businesses in town to update their information and fill in gaps.
A commenter to my prior post pointed out that the directory was missing farms. The EDC is adding those. But it's unlikely that oversight was the only error.
The EDC's directory is based on the Town's tax and DBA records. Some of that contact information appears to be incomplete and possibly outdated. (It may even include businesses that are no longer operating. So, if you used to run a business in town or out of your home but don't any longer – you should take a look, too.)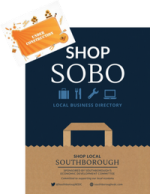 The EDC refers businesses to the draft data they have compiled and calls on them to double check their information for public listing:
As part of the Economic Development Committee's 'Shop Local' initiative, we want to be sure that all local business are listed. Please be sure that your information is correct and complete. Look for your business in the file 'draft.pdf' [click here]. (This file was compiled from the Assessor's Personal Property tax database and the Town Clerk's active DBA certiticate records.) Please indicate under which category your business should be grouped.

Questions or updates can be sent to creynolds@southboroughma.com 508-485-0710 x3011.

We welcome any ideas/suggestions that you may have.
The "draft" isn't really a draft of the directory. The directory is organized by business categories to make it easy for users. The draft data lists businesses alphabetically to make it easy for business owners and managers. It indicates the category each business would be listed under. I noticed that many are currently undesignated.
The 36 categories are:
Animals – Services/Vets
Automotive – Sales/Service
Banks
Barber Shop
Business Services
Child Care
Consulting
Crafts
Education
Electricians
Financial Services
Florists
Food/Beverage – Retail
Funeral Services
Gasoline Stations
Hair Salons
Healthcare
Home Construction/Improvement
Home Services/Design
Insurance
Landscaping
Legal Services
Lodging
Massage Therapy
Nail Salon
Online Retail
Photography
Physical Fitness
Physical Therapy
Printers
Real Estate
Restaurants
Retail
Schools
Transportation
Travel
Updated (12/1418 9:26 am): Initially, I linked readers to the current draft. The EDC asked me to point readers to the announcement page instead. That way, you will always find the link to the most up-to-date draft posted.