The Southborough Library is bringing back the Pumpernickel Puppets to put on its popular "Sir George and the Dragon" show. The show will take place over school break next week.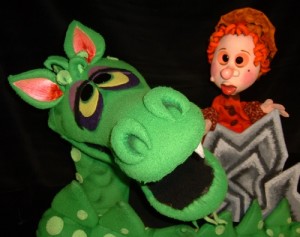 The event is open to all ages, but the show is geared towards kids ages 3 and up.
And it's been three years since "Sir George" played at the Library. That means there's a whole new crew of tots to be entertained. (Plus, some who may have vague fond memories of the show.)
Show promos describe:
Join an adventurous princess as she journeys to Mystery Mountain to visit the Great Green Dragon. Along the way you'll meet Zelda the babysitter, a silly bat, Sir George and his clumsy dog, and of course the lovable dragon. Will Sir George slay the dragon? Not to worry–everything ends happily in this fun show.
The puppeteer promotes that his shows:
are presented with a cast of colorful puppet characters, audience participation, live voices and sound effects and fast paced scripts that not only entertain, but stimulate children's imagination and creativity. A demonstration period follows every performance giving the audience some insight into what happens behind the scenes.
The show will take place on Thursday, December 27th at 3:00 pm on the main, upper floor. The entertainment is sponsored by The Friends of the Southborough Library.