This weekend, some residents are looking to start the New Year off on the right note – coming together to celebrate Peace and Unity. They invite the community to join them.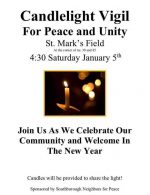 Southborough Neighbors for Peace is hosting a candlelight vigil on St. Mark's field* on Saturday, January 5th at 4:30 pm.
The group will be handing out candles to everyone who joins them, "to share the light."
They invite you to bring family and friends to help spread "the message of Peace & Love."
*The field is at the corner of Routes 85 and 30, across from the Library.
[Editor's Note: If you are looking for my weekly post highlighting special events around town, this is it.
The only other event scheduled for this week is the start of Light Up Sledding on Saturday evenings at Chestnut Hill Farm. But that is obviously weather dependent. And the forecast is not promising for this week.]