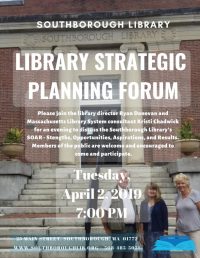 Tomorrow night, the Southborough Library is hosting a special forum. It's part of the Trustees' long range strategic planning.
Anyone interested in participating is welcome to join them. That includes people who don't currently make use of our Town's Library.
The meeting will take place Tuesday, April 2nd, at 7:00 pm at the Library.
On its website, the Library posted:
This informal meeting will be charged with providing feedback that will help to update the Southborough Library Long Range Strategic Plan. The Fall 2018 Community Survey data will also be used to help formulate the needs assessment and ultimate action plan in addition to your feedback in this and future forums plus several planned focus groups.

The Forum is open to the general public. We want feedback from both library users and nonusers alike! For more information about Library Strategic Planning, please visit the LibGuide from the Massachusetts Library System.
A flyer details:
Please join the library director Ryan Donovan and Massachusetts Library System consultant Kristi Chadwick for an evening to discuss the Southborough Library's SOAR – Stengths, Opportunities, Aspirations, and Results. Members of the public are welcome and encouraged to come and participate.
You can take a look at the Library's current strategic plan, FY16 -FY20, here. For the data collected through their survey last fall, click here.