This Sunday, St. Mark's School is holding its annual jazz festival. In past years, students collaborated with a great jazz player, or even three. This year, the school is bringing in a whole big band!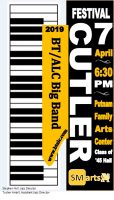 The free concert, featuring the BT ALC Big Band, will take place April 7th at 6:30 pm in the Class of '45 Hall in the Putnam Family Arts Center.
(That follows the Celebrating Service, Celebrating Southborough reception by the Rotary Club in the same building. For more on that, click here.)
From what I found on the band, it seems they live up to the "big" label, with 18 members playing original funk, soul, hip hop, and jazz.
The band's name comes from leaders Brian Thomas and Alex Lee-Clark. They promote on Facebook:
This is not your daddy's big band!! (unless your daddy is James Brown!). . .

Spontaneous, funky, and undeniably a party, the BT/ALC Big Band assembles the finest musicians from Boston and beyond to create something totally original.

Sax – Pete Levesque, Rick Stone, Bill Vint, Mike Tucker, Tucker Antell, Jared Sims, Ben Whiting | Bones – Ben Griffin, Brian Thomas, Clayton DeWalt, Jeff Hoyer, Chris Beaudry, Angel Subero | Trumpets – Yaure Muniz, Alex Lee-Clark, Doug Olsen, Trent Austin | Rhythm – Ted Sullivan, Jeffrey Lockhart, Steve Fell, Sam Gilman, Darby Wolf
Of course, I always believe hearing is better than reading when it comes to music. So, here is a sample of their sound, via YouTube:
Parking for Sunday's event is available in the SM Athletics Parking lot off Rt 85 (north of Taft Hall). Click here for a campus map.
You can check out pictures from last year's festival on the school's smug mug site.