The Southborough Library is continuing its "Crafternoon" series this spring led by popular crafter Mandy Roberge of Wicked Good Henna.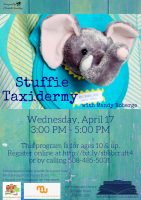 Next week, tweens and teens are asked to put old toys to new use via Stuffie Taxidermy (a.k.a. "Franken-Stuffie"):
Using well-loved stuffed animals, a bevy of craft supplies and a healthy dose of hot glue, it's time to re-imagine the stuffies of your youth!
It might be a good way to declutter a bedroom with stuffed animals your kids can't bear to toss out.
But, it doesn't mean you have to take an axe (or scissors) to a beloved old teddy. There will be extra stuffed animals on hand for those who can't stomach beheading an old buddy (or don't have one to bring).
This program and other upcoming sessions invites ages 10+. Registration for this event is required. The program is limited to 15 participants.
The event takes place on Wednesday, April 17th. To register, click here or call the front desk at calling 508-485-5031.
Two more crafternoons remain this spring. Below are dates, themes, and registration links. All of these take place from 3:00-5:00 pm on a weekday afternoon. Click thumbnails to enlarge:

Mosaic Trivets
Tuesday, May 21 – click here to register
Design hot plates out of mosaics

Harry Potter Stations
Tuesday, June 18 – click here to register
Rotate through the room, making different crafts with a Harry Potter theme
The crafting series for young adults is funded by a grant from Southborough Community Fund, a fund of the Foundation for MetroWest.
*Note: I discovered that the taxidermy image used by Roberge and therefore in the flyer is from a DIY blog by Karen Kravitt.