Southborough Kindergroup's Easter Egg Hunt is one of our community's fun traditions.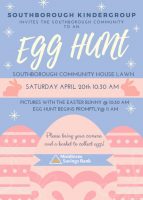 The hunt is set again for the day before Easter – this Saturday, April 20. While the forecast looks grim, there is an alternate location if rain makes it necessary.
Rain or Shine – Festivities will begin at 10:30 am with the chance to take pictures with the Easter Bunny. (Bring your own camera.)
The "hunt" (really more of a plunder) begins at 11:00 am. (Bring your own basket to collect kids' bounty.)
So far, organizers have their fingers crossed for a change in forecast.

If it improves, the hunt will take place at its traditional local – the front lawn of the Community House, 28 Main St.
If that happens, expect the lawn to teem with children rushing around the lawn scooping up plastic eggs and looking for the "golden egg" prizes.

Babies also toddle along, picking up eggs and plopping down to inspect their plunder.
If the weather reports force a change, the event will be held in the Harlow Gym at Fay School. (I'm expecting an update on that by Friday afternoon, so stay tuned.)
One thing that has changed over the years is the registration information. This year, the event is again free and no registration is necessary!
Updated (4/20/19 7:30 am): The hunt will take place in the Fay School Harlow Gym, 23 Middle Road. (Click here for the campus map.)