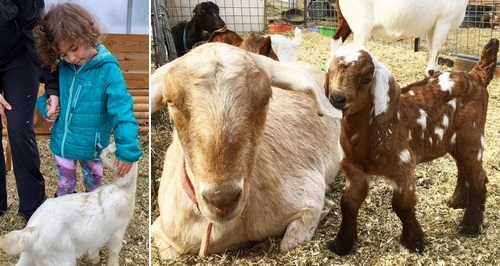 Chestnut Hill Farm is holding another chance for kids to cuddle kids. The Goat Kid Cuddling Party will take place this weekend.
This time the cuddling party isn't free. But it's only a small fee, and the farm reminds:
All proceeds from CHF's events support the running of our nonprofit farm (soon to be certified organic) and its programs for toddlers through adults. Thank you for your support!
The farm invites you to join them this Saturday, May 4th from 10:00 am to noon:
Come cuddle and play with baby goats! We're gathering a bunch of kid goats in a big play pen and setting them loose to run, jump, and snuggle. Want to hang out with them? They want to hang out with you!

Wear your play clothes because the baby goats might put their dirty feet on you, snuggle up against you, eat leaves from your hands, and act like the toddlers they are.

We'll also have a fun craft for our younger friends, and our farm stand will be selling lots of spring veggies and herbs for your garden!

Pre-registering is not required but is encouraged due to the popularity of this event — plus, advance purchase will help lessen your wait for cuddle time if there are lines! Pre-registration closes Friday, May 3 at noon.

This event runs rain or shine. If there is rain, don't worry: You can still cuddle with the baby goats under our big tent.

Trustees Member Child: $5
Nonmember Child: $10
Adults with children: free
For now, you can register online here. (Don't worry too much if you miss the Friday noon deadline, you can still signup onsite.)
The farm also shared a post note, explaining about another goat related activity that isn't taking place:
Our planned goat milking demos cannot happen because nature isn't cooperating; our milking goats are still (very) pregnant! We should be able to have goat milking demos at our June 23 Strawberry Festival, so stay tuned!