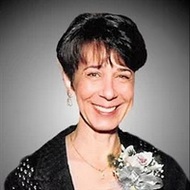 Anita Kay (Friedland) Backer, age 70 died at her residence on Tuesday, April 30, 2019 after a long illness.
She leaves her husband of 48 years, Michael Backer, three sons, Stuart Backer and his wife, Julie, Bradley Backer and his wife, Susannah Horwitz and Ethan Backer and his wife, Aiko; two brothers, Kenneth Friedland and his wife Helene, and David Friedland, and four grandchildren.
She was born in New York City and was the daughter of Solomon and Jean (Schreider) Friedland. She graduated from the University of Bridgeport and for many years was a real estate salesperson.
With her husband she was a founding member of Congregation B'nai Shalom of Westborough. She was a member of its choir for many years and the Congregation B'nai Care Group.
FUNERAL SERVICES WILL BE HELD AT 11:00 AM ON FRIDAY, MAY 3RD IN CONGREGATION B'NAI SHALOM, 117 EAST MAIN STREET IN WESTBOROUGH UNDER THE DIRECTION OF RICHARD PERLMAN OF MILES FUNERAL HOME OF HOLDEN. Burial will be in Holy Society Cemetery (Chevra Kadisha Cemetery) in Leicester.
A Memorial Observance Reception will be held at Congregation B'nai Shalom, immediately following the interment service, until 5:30 PM. The remainder of Memorial Observance will be announced at the time of the funeral service. Memorial contributions may be made to Congregation B'nai Shalom, 117 East Main Street, Westborough 01581, or to the Dana Farber Institute to Advance Research and Patient Care in Stem Cell Transplantation under the direction of Dr. Corey Cutler, Dana Farber Cancer Institute, P.O. Box 849168, Boston, MA 02284 or via www.dana-farber.org/gift or to the charity of one's choice.