This Saturday, the Southborough Library is encouraging teens and tweens to creatively explore and express their spirits.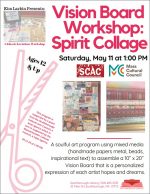 The Vision Board workshop led by Kim Larkin of Klassic Kreations is described as:
A soulful art program using mixed media (handmade papers metal, beads, inspirational text) to assemble a 10'' x 20'' Vision Board that is a personalized expression of each artist hopes and dreams.
The workshop is open to ages 12+. It will take place this Saturday at 1:00 pm.
The event is free, but participants are asked to pre-register. Sign up online here or call the Library at 508-485-5031.
The program is sponsored by the Southborough Cultural Arts Council, a division of the Mass Cultural Council.