The Southborough Library is following up on the literary week it held over spring break. This time, while the focus remains on children's authors, the program is geared to adults. (Though, I'm sure young adults are also welcome.)
Next week, the Library is hosting an Author night focused on "KidLit". The discussion panel will feature three visiting children's book authors and a Southborough writer.*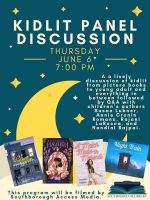 The community is invited to take part:
Have you ever wondered how authors come up with creative ideas for children's literature?

Join us for a lively discussion . . . with authors that create children's books. Kidlit Panel Discussion topics will include picture as well as young adult books and everything in between!
The event will take place at 7:00 pm on Thursday, June 6th. It will be held on the main floor, upstairs. The event is free and no registration is required.
Here are more details on the guest authors:


Annie Cronin Romano is a writer specializing in picture books and middle grade novels.
To date, she has published two picture books. Both are available through Interlibrary Loan: A Journey from Dusk to Dawn and Before you sleep : a Bedtime Book of Gratitude.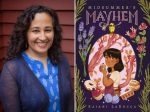 Rajanni Larocca wrote the middle grade novel Midsummer's Mayhem, a contemporary-fantasy retelling of Shakespeare's A Midsummer Night's Dream. It will be coming out on June 11th.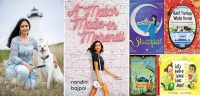 Nandini Bajpai's young adult novel A Match Made in Mehendi is being published in the US for a September release. Previously, she successfully published children's books in India.
Her novel Starcursed is available through Interlibrary Loan, her paperback novels Red Turban White Horse and Rishi and the Karmic Cat are available on amazon, and her educational picture book, Let's Make Some Lime Juice! is available as a free e-reader.


The panel will also include Southborough's Susan Lubner.* Lubner is author of children's novels Lizzy and the Good Luck Girl and The Upside of Ordinary and picture books Ruthie Bon Bair, Do Not Go to Bed with Wringing Wet Hair, A Horse's Tale and Noises at Night.
The discussion will be moderated by the Library's Val De Angelis.*
*Updated (6/3/19 8:00 am): The Library informed me that there was a program change since I originally read about the panel. Initially, I wrote that Susan Lubner was going to moderate. Instead, she will participate as one of the panelists.