Algonquin Cheer is promoting two opportunities in June. One is for students attending the regional high school next year. The other is for younger kids through teens.
Next week, students in grades 8 and up can try out to join the Algonquin Regional High School Cheer Team for the coming school year. It's a chance to be part of the nationally recognized team.*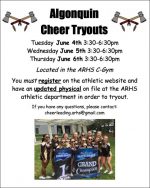 The tryouts are scheduled for next Tuesday, June 4th through Thursday, June 6th from 3:30 – 6:30 pm. Pre-registration on the athletic website is required.** Click on the flyer right for more details.
Girls and boys too young to make the team can still join the varsity cheerleaders and their coaches to learn "new cheers, dances and stunts". Kids ages 5-14 are invited to sign up for a youth camp:
All levels welcome! You'll have a chance to show off what you've learned to family and friends on the last day of camp.
The camp conveniently begins the day after school gets out.
The morning camp will run Tuesday, June 18 – Friday, June 21 from 9:00 am – 1:00 pm.
Registration is $100 per participant. The deadline to signup is June 10th. You can find more details on the registration form here. (You can also register online here.)
If you have any questions, please contact Sharon Botnovcan at sharbot11@gmail.com or 315-256-4534.
*The Performance squad won competitions at a national tournament this spring. The school paper interviewed members of the team about their success. You can see that story here.
**Note: Although registration for cheerleading is already open, registration won't open for other ARHS sports until July 1st.