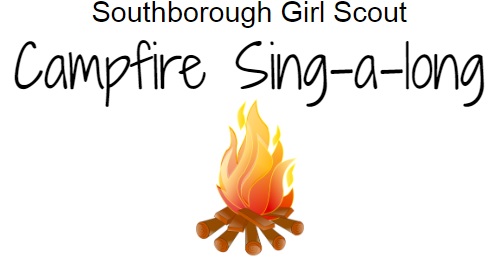 Thanks to Troop 85160, Southborough Girl Scout sing-a-longs aren't just for the winter holidays. Southborough Girl Scouts and their families are invited to sing around the fire in two weeks:
Join your fellow Southborough Girl Scouts in an end-of-year celebration with songs, skits and s'mores!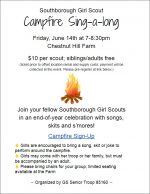 There is an admission fee of $10 per scout*, but siblings and adults can tag along for free.
The Campfire Sing-a-long will be held at Chestnut Hill Farm on Friday, June 14th at from 7:00 – 8:30 pm. Pre-registration is requested here.
The flyer details:
Girls are encouraged to bring a song, skit or joke to perform around the campfire.
Girls may come with her troop or her family, but must be accompanied by an adult.
Please bring chairs for your group; limited seating available at the Farm
*The ticket price is to offset the location rental and supply costs. Payments will be collected at the event.