As most of you are aware, the Southborough Library's downstairs was refurbished this year following last summer's flood. As part of that, the old Book Sale/meeting room was converted for planned use as a teen space.
Some of you may be aware that the space hasn't opened yet. That's about to change.
The Library is recruiting teen and tween volunteers to help them this week. They will be working to move the young adult collection to its new room. The work is scheduled for tomorrow, Wednesday, June 19th through this Friday, June 21st. (Good timing since teens are out of school but camps have yet to start.)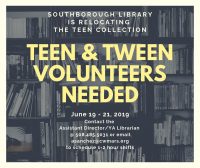 The Library posted to Facebook asking for help. The flyer promotes:
They say that many hands make light work!

Join us. . . as we prepare to relocate our teen collection and make way for a new teen space!
Staff are looking for volunteers to sign up for 1-2 hour shifts. Anyone interested can contact the Young Adult Librarian, Assistant Director Aileen Sanchez at 508-485-5031 or asanchez@cwmars.org.