The Southborough Library's Cookbook Club has been such a success, they've launched a junior spin off.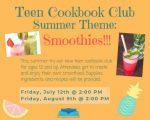 The "Teen Cookbook Club" invites young adults aged 12+ to join them for two Friday sessions in July and August. The summer theme will be smoothies. For these sessions, the Library will provide Supplies, ingredients and recipes.
The events are scheduled for July 12 and August 9 from 2:00 – 3:30 pm. No registration is required.