The Southborough Library's Cookbook Club is continuing this summer, with one coming up on Tuesday night. If you'd like to join them, you won't need to read an entire book. You just need to pick out one recipe to whip up and share.
[Editor's Note: As I posted earlier this week, there is also a spinoff of the club for teens this summer.]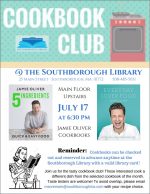 The monthly event takes place on Wednesdays each month from 6:30 – 8:30 pm. Each month, participants choose a recipe from the selected cookbook(s) for that month.* Follow the recipe and bring your dish to the Library that evening.
What follows is a discussion about experience, cooking, and community. All are welcome!
Below are upcoming dates and selected cookbooks:
*To avoid overlap, please email msorensen@southboroughma.com with your recipe choice.