Before the winter holidays, a special tour will highlight beautifully decorated homes to inspire others. Organizers are putting the word out early to start recruiting homeowners, designers, and artisans. Proceeds will benefit preservation efforts in town.
The fundraiser is through a partnership between the Southborough Historical Society and a downtown decor shop, At Number 10*. The "Holiday House Ideas Tour" will take place the last Saturday in November.
Shop owner Heather McDougall shared that she and Historical's Kate Battles are seeking participants for what they hope will be an annual happening. She wrote:
The Southborough Historical Society and I are working together to create a Holiday House Ideas Tour which will take place on Saturday November 30th, from 10 a.m. to 4 p.m. The Holiday House Ideas Tour is a fundraising event for the Southborough Historical Society. All proceeds directly support the Society's mission of preservation.

We are currently looking for homeowners who would be interested in having their house shown on the tour, as well as designers who have worked with Southborough residents in the past who would be interested in decorating a home.

We would also love Southborough residents to follow us on social media via our Facebook Page or Instagram Feed. We will be updating these accounts regularly with event information.

On the day of the tour, the Flagg school will be open and we are hoping to have a small Christmas market in front of the school. We are looking for local artisans who may be interested in having a spot there.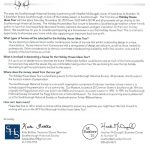 She also attached a letter with more details for interested homeowners. (I cropped the image right to make it legible on the blog.)
To state your interest or ask questions, contact McDougall at southboroughhousetour@atnumber10.com or through social media messaging.
*If you're looking for McDougall's shop downtown, don't go by the name. At Number 10 is actually located at number 3 Main Street.
Updated (7/25/19 9:59 am): Fixed spelling of McDougall's name and added fundraising partner Kate Battle's name.