This weekend, a group of residents interested in "Native Plant Gardens" are again inviting the public to tour some in town.
Even if you toured gardens last summer, it's worth checking out changes over the past year. Here's the invitation organizers asked me to share to the free event:
Native Plant Garden Tour
Sunday August 4 2019 11AM to 1PM
Meet at Senior Center (Cordaville Hall)
9 Cordaville Road Southborough MA
The event is rain or shine

See how you can have a beautiful garden using Native Plants while greatly benefiting our Native Bees, Birds and Butterflies.

There is a Growing Movement to use native plants in our landscapes. Come learn what the Buzz is all about.

We will first look at the new Native Plant Pollinator Garden at the Senior Center which is in its second year and then head out to see 3 additional local Native Plant Gardens. We anticipate the tour to end at 1:00 but plan to stay later at Breakneck Hill for a walk if you wish.

While the first 3 gardens were visited last year it is still worth coming again if you came last year. See what's happened in a year, lessons learned and wonderful additions. Plus this year the Native Plant Pollinator Gardens at Breakneck Hill will be our 4th stop.
The event is hosted by members of the the Native Plant Gardens of Southborough Facebook Group. They have over 250 members and are still growing. (You can join them.) To check them out, click here.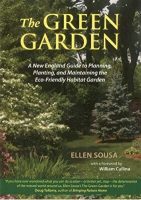 Garden Coach Ellen Sousa will participate in the tour. She was the consultant on the design if the Breackneck Hill and Senior Center Gardens. She will discuss the plants she chose and the pollinators they benefit. She authored The Green Garden: A New England Guide to Planning, Planting, and Maintaining the Eco-Friendly Habitat Garden (available at the Southborough Library).
Here are more details about what to expect at each of the four stops:
The Senior Center Gardens:
you'll hear about the installation process, see which plants were chosen and learn which pollinators they support. Learn what has happened during the first year and our second year as an established Garden a year and the positive response from senior center visitors. In 2018 Volunteer Carol Yozzo wanted to beautify the Senior Center and she became committed to using all native plants to benefit pollinators. The Council on Aging (COA) funded the purchase of plants and materials, while the Open Space Preservation Commission funded the Garden Design and helped source plants as part of their Initiative: NATIVE POLLINATORS • NATIVE PLANTS
Joyce Greenleaf's garden:
In the spring of 2016, my husband and I installed a new garden in our rebuilt patio beds. We focused on native plants. We immediately saw results with more and different bees and butterflies. Now, a few years in, we are learning which plants spread more easily and also what mistakes we made in the garden design. We also have begun trying to reclaim portions of our woodland edges–which are full of invasives–and have added natives there, too. It's a journey, for sure, and we love sharing our lessons learned. This year we have noticed new species of birds visiting our yard that we've never had seen before in the over 20 years we lived here . We believe it is because of all the native plants we have.
Jenny Peet's garden
I am a busy, working mom who has reclaimed the border of my front lawn for the benefit of insects and other wildlife (as well as the enjoyment of my family!). Along the way, I have learned how to create a garden where there was nothing prior, and about the great benefits (in cost and time) of starting native plants from seed. Now that the garden is two years old, it is really starting to mature, and my family and I have been delighted with monarch butterfly sightings, as well as increased numbers of bees and dragonflies, and even a garter snake! As we were lucky enough to recently witness a monarch butterfly laying eggs on our milkweed, I am looking forward to sharing the wonder of this butterfly's life cycle with my two young children. Having fully succumbed to the native plant bug, I am also starting to add native shrubs and trees to the understory of the wooded parts of my yard. I welcome visitors to learn about some of these beautiful, underused plants!
Breakneck Hill Conservation Land Pollinator Gardens
If you're looking for care free plants you won't find better choices than at the Breakneck Pollinator Gardens. These plants have had to make it on their own and aside from some limited watering at installation they have had to make it on their own aside from some annual weeding (which in a natural meadow landscape has presented challenges) but see these butiful flowers and the butterflies, bees and humming birds they attract. Breakneck Hill is in the 5th year of a Bumblbee survey with Dr. Robert Gegear and his research has influenced us on plant choices for rare bees.