Southborough Youth and Family Services announced that the show will go on tonight. Due to the tight concert schedule, there was no available rain date. So, Paxton Crossing will try to make the most of this evening.
Since the outdoor series takes place on Neary field, expect the venue to be wet. And don't expect to buy dinner. SYFS posted:
We know the weather is a little weird today but the band wants to try to play the concert anyways! Radar has indicated that things should be clearing up just in time for the concert, but it will be wet on the field so bring your rain boots 😆. Only Uhlman's for concessions, so bring some dinner!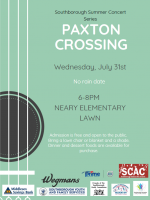 The concert is from 6:00 – 8:00 pm tonight, July 31st.
If you missed my previous post on the featured act, the band plays "a variety of music, including original songs and covers, from a variety of genre".
You can take a listen to some of Paxton Crossing's style via this Facebook video of them playing in Paxton's outdoor music series: