The Southborough Library is continuing its "Crafternoon" series this winter led by popular crafter Mandy Roberge of Wicked Good Henna.
Twelve more are scheduled through spring, starting with one next Tuesday. Some are for teens 13+, while some also include kids 8-12.
With limited space in the hands on series, Registration is required for each session. (Take that seriously. I didn't promote the last few Crafternoons because signup sheets filled up before I got the chance!)
The first four sessions of 2020 are sponsored by the Southborough Community Fund. Sign up sheets have been posted for each. I've included the links below.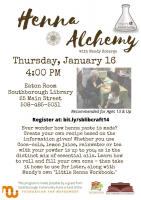 On Tuesday, January 7th from 4:00 – 5:30 pm, patrons aged 8+ are invited to make "Creative Pillowcases":
Using different kinds of fabric and embellishments along with special transfer paper and liquid or traditional embroidery, patrons and create a unique pillowcase that will help them have sweet dreams!

To register, click here or call the front desk at calling 508-485-5031.
That session and the following three are . I've included the registration links below.
The next three take place from 4:00 – 6:00 pm on a weekday afternoon. Click thumbnails to enlarge:

Henna Alchemy
Thursday, January 16 – recommended for ages 13+ – click here to register
Ever wonder how henna paste is made? Create your own recipe based on the information given! Whether you use Coca-cola, lemon juice, rainwater or tea with your powder is up to you, as is the distinct mix of essential oils. Learn how to roll and fill your own cone – then take it home to use for later, along with Mandy's own Little Henna Workbook".

Upcycled Robot Sculpting
Tuesday, February 4 – recommended for ages 8+ – click here to register
Using craft supplies, and "knick-knacks and doo-dads" kids will hot glue together "robot" figures that can then be painted gold or silver if they wish.
Macrame Keychains


Thursday, February 20 – recommended for ages 13+ – click here to register
You might have admired the art of Macramé, a form of textile produced using knotting techniques, but did not have the opportunity to learn this fun skill! Join us for a fun program where you will use simple macrame techniques to make your very own keychain!
[Editor's note, unlike the other images above, from Wicked Good Henna internet posts, the macrame pic was from a how to Facebook post by craftgawker.]
The remaining sessions for the year are listed on the calendar but without registration links, sponsors, or age specifics. So, save the dates and stay tuned:
Creative Journaling – Tuesday, March 3
Inspiration Rocks – Thursday, March 19
Clipboard Makeover – Tuesday, April 7
Mosaic Trivets – Thursday, April 16
Jewelry Makerspace – Tuesday, May 5
Old Book Page Crafting – Thursday, May 21
Star Wars Stations – Tuesday, June 2
Sewing 101/Makerspace – Thursday, June 18