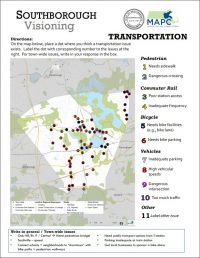 A week from Wednesday, the Master Plan Committee will discuss the impact on Southborough of regional and state transportation issues and opportunities. State Senator Jamie Eldridge and Representative Carolyn Dykema are expected to participate.
The open meeting will be held at Cordaville Hall (the Southborough Senior Center) at 7:30 pm on Wednesday, January 15th.
The agenda is also expected to include an "in depth discussion on schools, housing and commercial development."
Committee member Meme Luttrell of the Planning Board made the announcement at last night's Planning meeting. She invited the public to attend. (The agenda has yet to be officially posted.)
The Master Plan Committee is charged with updating the Town's "vision document". Last November, the committee held a Community Visioning forum to encourage public participation. In mid-December, the Planning Board posted public input compiled from the forum. It included feedback on transportation issues in town. (That page is pictured right.)
Comments on transportation covered Town specific issues like sidewalk requests. But they also included commuter rail issues of access and frequency.
In previous updates to Planning, Luttrell shared that about 40 people attended the October forum, including the MPC. She said the the MPC is planning to issue a survey to gather more input from the public, and possibly additional forums.
(You can get a closer look at the transportation feedback doc in the pdf flyer here. You can also read the full feedback document including other topics from the forum here.)