The Algonquin Parents & Teacher Organization is promoting its latest news and events. They asked me to help them spread this month's word.
Fundraisers
Casa Vallarta – January 30
This month's restaurant fundraiser is a week from tomorrow.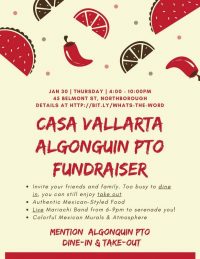 The fundraiser is at Casa Vallarta in Northborough on Thursday, January 30th from 4:00-10:00 pm. For a percent of your order to be donated back to the APTO show the flyer right or mention the APTO.
If you aren't familiar with the restaurant, the website promotes:
All 5 locations of Casa Vallarta are family owned and operated. We take pride in sharing with you our festive heritage and authentic Mexican styled foods from the port of Puerto Vallarta, Mexico on the Pacific ocean coast. All our dishes are prepared with care and our promise of satisfaction.
The Northborough location is 45 Belmont Street (on Route 9 West). If you dine in between 6:00 – 9:00 that night, you can enjoy a live Mariachi Band.
For parents of ARHS Juniors, it might be a good way to grab a quick dinner before heading to the school that night. The ARHS Junior College Planning Night presentation for parents will take place at 6:30 pm in the auditorium.
Alcohol Awareness
After two postponements, the Alcohol Awareness Forum for parents is temporarily on hold. In the meantime, the APTO encourages parents to read a posted presentation on alcohol and teens "The Forgotten Epidemic". (Click here.)
Getting involved
Attend the next APTO meeting – The APTO meets on Tuesday, January 28, 6:30-8:00pm at Algonquin in the Library/Rm D109.
Volunteer – The group still encourages parents and community members to sign up to help as hallway and cafeteria monitors, etc. If you haven't already completed a CORI form, you can find the form on the APTO website here.