The Southborough Library is bringing back popular chocolatier Kim Larkin.

As always, she'll be offering up some tasty samples. (Like her custom made chocolate bark, pictured right.)
Larkin has brought her chocolate knowledge to the Library in past events that paired it with tea and linked it to Ireland. This time, the focus is on its connection to romance.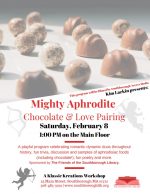 Next week's program is aptly themed for Valentine's month. "Mighty Aphrodite" explores chocolates, other aphrodisiac foods, and other romantic topics.
A flyer pitches:
A playful program celebrating romantic dynamic duos throughout history, fun trivia, discussion and samples of aphrodisiac foods (including chocolate!), fun poetry and more.
The free Klassic Kreations Workshop is sponsored by The Friends of the Southborough Library. No registration is required.