The Southborough Library is continuing its popular "Crafternoon" series, thanks to a grant by the Southborough Community fund. Sessions will take place twice per month through the end of the school year.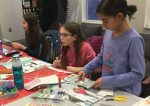 The afternoon crafting sessions for teens and/or tweens are led by popular crafter Mandy Roberge of Wicked Good Henna. (Recommended ages vary by activity.) With limited space in the hands on series, registration is required for each session. (Some fill up quickly, so be sure not to wait until the last minute.)
Sign up sheets have now been posted for all of them. I've included the links below. Along with a couple of new crafts, Roberge will be returning with crafts that were a hit at the Library in the past.
Each session takes place from 4:00 – 6:00 pm on a weekday afternoon. Click thumbnails to enlarge:
Macrame Keychains

Thursday, February 20 – recommended for ages 13+ (Click here to register.)
You might have admired the art of Macramé, a form of textile produced using knotting techniques, but did not have the opportunity to learn this fun skill! Join us for a fun program where you will use simple macrame techniques to make your very own keychain!
Creative Journaling

Tuesday, March 3 – recommended for ages 10+ – (Click here to register.)
This creative workshop invites kids and teens to think about their past, future and present as they design pages of their journal. Roberge writes, "Bring on the kids who love to write and create!"
Inspiration Rocks

Thursday, March 19 – recommended for ages 8+ – (Click here to register)
Participants will create a rock using different media that will speak to them. What word or phrase is speaking to you right now? Using special paint pens, enjoy this Zen workshop as patrons connect over intention and art.
Clipboard Makeover

Tuesday, April 7 – recommended for ages 10+ (Click here to register.)
Starting with a simple clipboard, each participant will tailor the ordinary office supply into something personal and wonderful to make their life a little more fun! (Click here to see the 2019 event pics.)
Mosaic Trivets

Thursday, April 16 – recommended for ages 8+ (Click here to register.)
Participants will use a variety of mosaic items to create a project — either functional or simply a piece of art — unique to their own creative side. (Click here and here to see the 2019 event pics.)
Jewelry Makerspace

Tuesday, May 5 – recommended for ages 13+ (Click here to register.)
Participants will use their creative side to make necklaces, bracelets, key chains, napkin holders, bubble wands, earrings….or all of the above! (Click here to see the February Break 2018 event pics.)
Old Book Page Crafting

Thursday, May 21 – recommended for ages 13+ (Click here to register.)
Participants will create a variety of crafting projects from old book pages using a wide variety of functional items that can be enhanced by the words and images found in old pages. (Click here to see 2019 event pics.)
Star Wars Stations

Tuesday, June 2 – recommended for ages 8+ (Click here to register.)
This workshop celebrates all things Star Wars! Three stations will be available to kids and teens as they rotate through the room, including "Wookie Cookie" decorating, Perler Bead Keychains and Star Wars finger puppets (using hot glue guns). (Click here to see the 2018 event pics.)
Sewing 101/Makerspace

Thursday, June 18 – recommended for ages 13+ (Click here to register.)
This workshop focuses on learning the basics of sewing (threading a needle, starting and stopping a stitch, and fixing a button) and then invites participants to work on one hand-sewing project and one machine project (i.e. a scrunchie). (Click here to see pics from 2019 post.)