The district's youth rugby program is making some changes this year – both in players welcomed and scheduled seasons.
The Northborough Southborough Eagles Youth Rugby program was launched last spring for middle school boys and girls. Organizers are now welcoming freshman and sophomores to join in. Plus, the season will be split into spring and summer sessions. (Players can sign up for both at a discount.)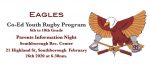 Parents are invited to learn more about this year's program at an info night this Wednesday, February 26th at 6:30 pm. It will be held at the Southborough Recreation Building, 21 Highland Street, on the top floor.
The co-ed sports program is open to 6th – 10th grade kids of all levels (including no experience). Teams will again be coached by USA rugby qualified coaches. Southborough Rec describes:
This action packed, fun and healthy activity is the fastest growing sport in the US. Eagles Rugby are providing the opportunity to experience this incredible game. Our goal is to create a safe and fun place for youth players to learn and practice the sport of rugby. . .

There will be weekly tournaments in the summer season and Spring Jamboree. Shirt and tournaments included in the price of sign up but players are required to register with MYRO if they wish to take part in Tournaments. . .

Learn technical details of the sport including safety and fair play
All practices take place at the Neary Elementary School fields.
Non Residents Welcome!
The "Eagles" sprung out of a Southborough Eagle Scout project last year in partnership with Southborough Rec. Organizers hoped it would serve as a "feeder team" to Algonquin's varsity program. You can read more about the program's success last year here.
Each season costs $120, or sign up for both for $175. (Though, as noted above, MYRO will have a separate registration to play in tournaments.) You can register for the Eagles program through Rec's website here.