The Algonquin Parents & Teacher Organization is promoting its latest news and events. They asked me to help them spread the latest word.
The main event they want to promote is tonight's Mooyah fundraiser. But I have to throw in a heads up on a special event that has a registration deadline next week.
Mooyah – Today, Thursday, February 27th
The APTO's monthly restaurant fundraiser is today. The venue is again Mooyah. The fundraiser is from 4:00 -9:00 pm.
(It's clearly a popular venue. This is the 5th restaurant fundraiser there this school year, with two other groups holding events there in just the last month.)
No flyer is needed, but you do need to mention the APTO fundraiser at the register when you order your meal. And make sure to place that order at the counter. (Call ahead and online orders don't count towards the fundraiser.)
The burger joint is located at 10010 Shops Way in Northborough.
Providence Bruins "Star Wars weekend" event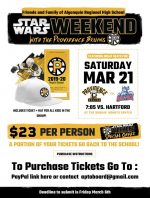 Registration is due soon for a special event in less than a month.
On Saturday, March 21st, Algonquin's "Friends & Family" are encouraged to attend a Providence Bruins game during the team's "Star Wars Weekend". The 7:05 pm game pits the Bruins vs the Hartford Wolf Pack.
Tickets run $23 per person with some of the proceeds going back to the school. (They'll also provide a Providence Bruins cap to each kid in your group.)
As for what the theme is about, the team's website promotes:
The Force is strong with the Providence Bruins on Star Wars Weekend at the Dunk! See P-Bruins players wearing special Star Wars themed jerseys to be sold throughout the weekend, with net proceeds going to benefit the Rhode Island Community Food Bank! Plus don't miss your chance to visit and take pictures with some of your favorite characters all weekend long!
To get tickets, you can email aptoboard@gmail.com or use paypal. The deadline is a week from tomorrow, Friday, March 6th.